International Driving Permit (IDP) is to be obtained by all UAE travelers who wish to drive their vehicle in a foreign country as per the Automobile and Touring Club of UAE more commonly known as ATCUAE.
In 1949 the IDP's were made to make sure that no difficulties are faced by motorists who would be traveling in a country which is outside of UAE owing to the differences in the driver's license requirements. Domestic driving licenses are allowed in various countries across the globe but problems arise when people are traveling abroad and that is due to the one bug issue of language.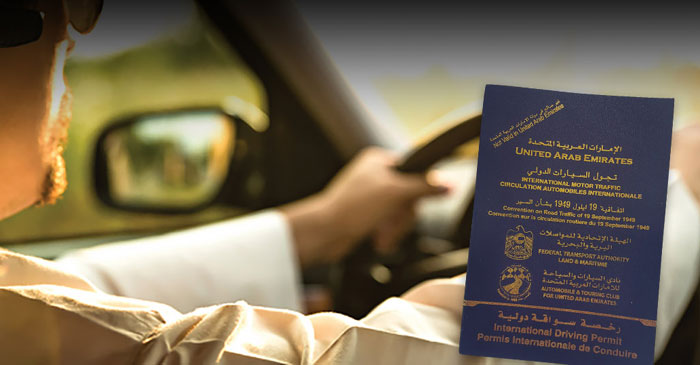 About International Driving Permit Dubai, UAE
If you are planning a summer vacation trip to the gulf and want to spend some time in either in Oman, Qatar or Kingdom of Saudi Arabia, now is the time. Each of these countries has various opportunities for you and your family to have fun over the vacation. However, it is to be made sure that before stepping into any of these countries, your IDP should be made beforehand. The IDP is a requirement set by the United Nations making it a very much legal document or requirement. It is through the IDP that you do not need to take many other tests and it is also an internationally recognized permit for you which is actually making traveling very easy. The International Driving Permit is valid for one year. It is also a proof of the fact that you belong to a certain country. Accidents can happen anywhere and the IDP can actually help you in legal coverage in the case of one. It can also serve the purpose of your legal identification (secondary or if your primary is lost). The IDP is multi-lingual and has recognition all across the world. There are various functions that are served by IDP and one of the primary ones is to allow law enforcement and other authorities in other countries so that your license can be read in the language they understand. If you want to know more details on the IDP, download the original brochure.
The best part about IDP application is that it is very user-friendly and simple to fill out. Get a grab on your official identification from an Emirates ID authority distributor, a copy of your valid UAE driving license and two Passport size pictures. In order to obtain the international Driving Permit, several portals can be used.
Automobile and Touring Club of UAE offices in Dubai, Abu Dhabi, Al Ain, Sharjah, RAK, Ajman, Fujairah, Um Al Quwain and the
Western Region.
RTA Offices.
Emirates Post Offices.
DNATA Office in Sheikh Zayed Road.
Our affiliate members.
Various Advantages of International Driving License Dubai
It proves that the driver and user of this IDP are someone who drives legally back home. The IDP os multilingual and is available in 10 languages from various United Nations required languages which are as follows: English, French, Spanish, Russian and Chinese, as well as German, Arabic, Italian, the Scandinavian languages, and Portuguese. On vacation, there are chances of losing on your important identification documents and this IDP can help serve as one without any kind of language barriers between the police and the drivers.
International driving permit in Dubai can be applied for one year and anyone who is a resident of the UAE can apply for it. No nationality requirements are supposed to be there. The only one is that the driver needs to have a valid Dubai Driving License.
Documents Required For Dubai International Driving License:
The following documents are required to get an International Driving License Dubai.
International Driving Permit (IDP) Form
A copy of Valid Passport
Valid Residency
Emirates ID
A copy of UAE-issued Valid Driving License
2 x Photos (passport photos)
Conditions:
The applicant should be a holder of a valid United Arab Emirates (UAE) driving license.
Fees:
AED150 (may have changed)
Obtain your International Driving Permit Dubai From:
Online via our IDP portal with delivery service
Automobile and Touring Club of UAE offices in Dubai, Abu Dhabi, Al Ain, Sharjah, RAK, Ajman, Fujairah, Um Al Quwain and the Western Region
RTA Offices
Emirates Post Offices
Dnata Office in Sheikh Zayed Road
Our affiliate members
Frequently Asked Question about Dubai International Driving License
01. Are you required to have an IDP?
IDP has international recognition and basically is a permit to drive a vehicle for a year.
02. What countries is an IDP required for?
| | |
| --- | --- |
| A-C | Afghanistan, Albania, Algeria, Andorra, Aguila, Angola, Antigua, Argentina, Armenia, Aruba, Australia, Austria, Bahamas, Bahrain, Bangladesh, Barbados, Belarus, Belgium, Belize, Benin, Bhutan, Bolivia , Bosnia & Herzegovina, Botswana, Brunei, Bulgaria, Burkina Faso, Cambodia, Cameroon, Canada, Cape Verde Islands, Cayman Islands, Central African Republic, Chad, Chile, Colombia, Comoros, Congo, Congo Dem Rep., Costa Rica, Cote d'Ivoire, Croatia, Cuba, Curacao, Cyprus, Czech Republic |
| D-F | Denmark, Dijibouti, Dominican Republic, Ecuador, Egypt, El Salvador, Equatorial Guinea, Estonia, Fiji, Finland, France & French Overseas Depts., French Polynesia |
| G-I | Gambia, Georgia, Germany, Ghana, Gibraltar, Greece, Guatemala, Guernsey, Guinea, Guinea-Bissau, Gabon, Haiti, Honduras, Hong Kong, Hungary, Iceland, India, Indonesia, Iran, Ireland, Italy |
| J-L | Jamaica, Japan, Jersey, Jordan, Kazakhstan, Kenya, Kiribati, Korea (Rep.), Kuwait, Kyrgyzstan, Laos, Latvia, Lebanon, Lesotho, Liberia, Libya, Lichtenstein, Lithuania, Luxembourg |
| M-O | Macao, Macedonia (FYROM), Madagascar, Malawi, Malaysia, Mali, Malta, Mauritania, Mauritius, Mexico, Monaco, Montenegro, Morocco, Mozambique, Myanmar, Namibia, Nepal, Netherlands, New Caledonia, New Zealand, Nicaragua, Niger, Norway, Oman |
| P-R | Pakistan, Panama, Papua New Guinea, Paraguay, Peru, Philippines, Poland, Portugal (inc Madeira & the Azores), Qatar, Russia, Romania, Rwanda |
| S-U | San Marino, Sao Tome and Principe, Saudi Arabia, Senegal, Serbia, Seychelles, Sierra Leone, Singapore, Slovakia, Slovenia, South Africa, Spain, Sri Lanka, St Kitts & Nevis, Sudan, Suriname, Swaziland, Sweden, Switzerland, Syria, Taiwan, Tanzania, Thailand, Togo, Trinidad & Tobago, Tunisia, Turkey, Uganda, Ukraine, United Arab Emirates, United Kingdom, United States of America, Uruguay |
| V-W | Vatican City, Venezuela, Windward Islands, Zambia, Zimbabwe |
03. Duration of IDP's Validity
From the date of issue, it has a validity of one year from that day onwards.
04. Does an IDP cover me for driving in UAE?
No.
05. What is the time duration to issue an IDP?
There are two kinds of application: online and over the counter. Online ones need 5 working days to be delivered to your postal address. Over the counter ones are faster as they are done within half an hour.
06. Price of IDP?
IDP is worth 150AED and this excludes the charges that the postal service would require to send it to your postal address.
Apply for International Driving License Dubai
Ist Method

Apply online International Driving License Dubai

Request Online

2nd Method

Fill the application form and visit our near office location.

Download Form
Source: The official portal of Dubai Government and Automobile & Touring Club (ATCUAE)